CREATING WEALTH IN PERSONAL FINANCES AND SUPERANNUATION
Manage your money to

live the life you want
It's a reality that many of the hopes we have for our children, our lifestyle, or our retirement, cost money. Whatever your dreams, from holidays and houses to nomadic journeys through retirement, your wealth is the key to making them a reality.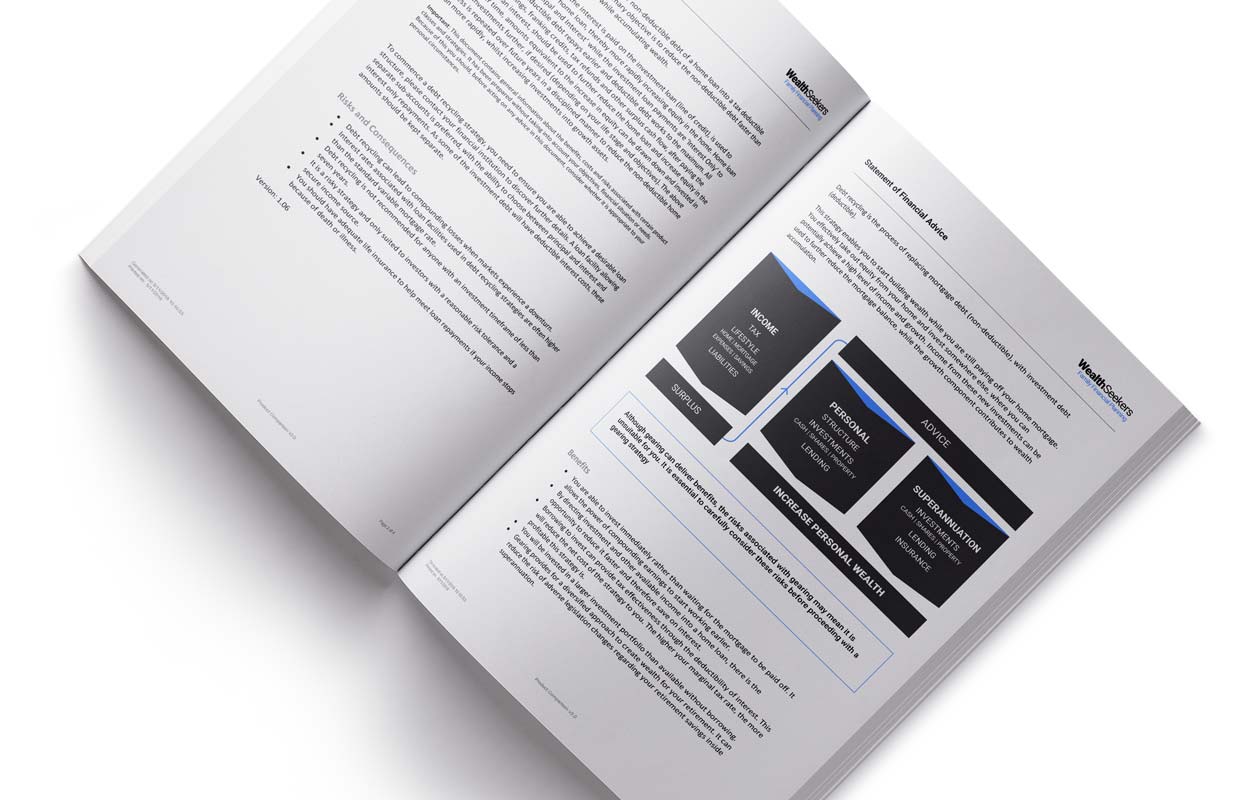 But where does wealth come from?
It's the result of successfully improving the performance of both your personal finances and superannuation.

Personal Finances: With wealth creation in your personal finances, you can create the life you want before you retire, whether you want to upgrade your home, travel or send your children to private school.

Superannuation: With the wealth you build in superannuation, you can maintain your lifestyle after you stop working and make the most of your retirement.
Improving the performance of your personal finances is best achieved with a combination of strategies working together.
Most people have opportunities to save money by spending less on tax, fees and charges. And by reducing debt, there's also money to be saved in interest.
There are also opportunities to free up funds by managing your money better, such as improving your budget and cash flow.
These savings alone can add up to make a considerable difference to your personal finances. But you can also grow your money further by investing in assets that produce an income.
With a financial plan that brings together all of these strategies, growing your wealth becomes realistic and achievable.
Organise and structure your finances while you're earning an income to:

Protect your financial security as your wealth accumulates.

Maximise the wealth you take into retirement by minimising tax and costs.

Make sure your wealth can be effectively passed on after your death.
Making small changes and contributions to your superannuation can make a significant difference to the wealth you have available when you retire. Financial improvements are compounded over time, so the earlier you get your superannuation right, the more you have to gain.
But that doesn't mean you should write your superannuation off if you're already well into your working career. In fact, you should make the most of your time remaining in the workforce by getting strategies in place to improve how your superannuation is performing.
Find out how you can use your superannuation to:

Hold assets and investments until retirement, when the income and capital gains becomes tax free.

Take out insurances to adequately protect your family from financial risk.

Establish a self-managed superannuation fund (SMSF) to gain greater control of your money.

Maximise the regulatory benefits available to boost your balance.
A balanced financial plan

for the years ahead
At Wealth Seekers, we can help you manage your financial situation comprehensively and efficiently. We tailor the right strategies to your situation, helping you manage your lifestyle, plan for big expenses and work toward the future you want for your family.
While you're working and earning an income, investing in your personal finances can help you reduce the amount of tax you pay. And when you improve your personal finances, you'll make more money available to invest in assets and grow your wealth further.
A financial plan that balances your personal finance needs with your retirement needs can also help you increase your superannuation balance. Just as importantly, it will help you prevent fees and inefficiencies from draining your money away.
Your adviser at Wealth Seekers will coordinate financial strategies to simultaneously grow wealth in your personal finances and superannuation. This plan will ensure your short, medium and long-term financial and lifestyle goals are nurtured.
Your tools for wealth creation

Income

Home equity

Personal savings

Tax savings

Assets and investments

Superannuation
Find out how we can help you improve your personal finances and superannuation. Book a consultation that's completely cost and obligation free.
Talk to us